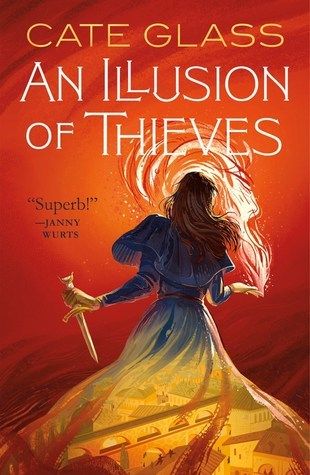 Spoiler Free Review
Title: An Illusion of Thieves
Author: Cate Glass
Series or Standalone: Chimera, #1
Genre: Fantasy, Magic, Adult
Publication Date: May 21st 2019
Publisher: Tor
Format: eArc
Source: Netgalley
Star Rating: ★★★★☆
GOODREADS
3 1/2 stars. I knew very little about An Illusion of Thieves when I requested it from Netgalley. Honestly, it was the divine cover that drew me in and I was happy to escape to a new, Italian inspired fantasy world.
An Illusion of Thieves centres around Romy, who at ten years old was sold by her mother to a procurer for the Moon House; an establishment where anonymous, unblemished girls and boys are transformed into courtesans to please men or women of wealth in both seemly and unseemly ways. For nine years, Romy was the companion and favoured courtesan to the Shadow Lord – a revolutionary noble who brings laws and comforts once reserved for the wealthy to all.
Although it was not a life Romy chose, she is not ashamed and enjoyed the privileges of being a member of the Shadow Lord's palace. But when her brother, Neri, is caught thieving with the aid of magic, Romy's aristocratic influence is the only thing that can spare his life—and the price is her banishment.
Back in Beggar's Ring, she has just her wits and her own long-hidden sorcery to help her and Neri survive. But when a plot to overthrow the Shadow Lord and incite civil war is uncovered, only Romy knows how to stop it. To do so, she'll have to rely on newfound allies—a swordmaster, a silversmith, and her own thieving brother. And they'll need the very thing that could condemn them all: magic.
"Sandro was the Shadow Lord, who would do what he believed had to be done. Even to me."
An Illusion of Thieves was especially enjoyable because Cate Glass spends a lot of time developing the characters. I loved how the author not only focused on developing the main character, but didn't neglect to develop her side characters as well. I really came to care for the struggles each character had and the struggles they shared when trying to stop the Shadow Lord from being overthrown.
"Sandro called me his chimera—the impossible made flesh—a fantastical creature who mirrored every part of his own soul."
Romy is also a main character that I found myself constantly rooting for. She is often subjected to disapproval for being the Shadow Lord's courtesan. No matter that she was witty and incredibly educated. Besides being subjected to bad-mannered folk for being a courtesan, she is also loathed by her mother and father and feared by her other siblings since discovering she was born with magic, viewed by most people in Cantagna as a demonic trait. I loved how Romy's maturity really showed in the face of such disapproval, because despite other peoples dim-witted opinion of her, she takes it in her stride and is never ashamed of herself.
Magic manifests differently in everyone. Romy is able to wipe memories and replace them with new ones, whereas her younger brother Neri is able to phase through walls. Despite being over her mother's disgust for her, Romy believes using magic is evil and forbids Neri to do so after him doing so results in her banishment from the palace.
"Neri was rash and foolish like any ignorant, frustrated human person who had been forbidden to use the single incredible skill Lady Fortune had given him."
I loved the sibling dynamic between Romy and Neri. Despite being a side character without a POV, Neri grows as much as Romy does over the course of the story. Their relationship at the beginning of the novel is hardly an affectionate one. Unlike Romy, Neri isn't convinced that his magic is evil, making him very irresponsible with his magic.
Although Romy doesn't hold Neri's behaviour against him, she doesn't pander to him either. She makes him challenge himself so he can mature and be able to take care of himself in order to survive in this world with gifts like his. I loved watching their relationship grow into something so wholesome over the course of the story.
It should be mentioned that this story could really be divided into two parts. Whilst the blurb mentions Romy's involvement in stopping a plot to overthrow the Shadow Lord, the first half of the story isn't really reflective of this. In fact, it's a fairly slow paced fantasy story. The first half of this story focuses' on Romy and Neri learning how to survive the Beggar's Ring. Reading their struggles with learning how to make money in order to survive made me come to really care for these characters. However, you should anticipate a slower paced story as the format is very slice of life, featuring some adventurous moments too.
That aside, I found myself really struggling with the writing style. I've never been a reader who is good at reading between the lines and within the first couple of pages I knew I would struggle. I thought the sentences were structured very complexly on purpose and I felt it wasn't as accessible in order to position or reinforce this story as being adult fantasy. But I can see readers of Laini Taylor, Susan Dennard, Nikki Pau Preto and George R.R. Martin perhaps enjoying this story.
Personally, I also enjoy romance and often seek out books featuring strong romantic plots. This book is very void of romance. There are subtle hints to a past romance, but the narrative remains focused on Romy's struggles once she is banished from the palace. I definitely would've been more invested if there was a strong romantic element. But I also know that some readers prefer their fantasy stories not to be overshadowed by romance. If you are that kind of reader, I'd highly consider picking up An Illusion of Thieves.
---