Hello everyone! How are you? July has been so good for book and comic book lovers — mainly because San Diego Comic Con recently happened towards the end of the month and a whole bunch of trailers dropped. Which is personally what I look forward too, along with the panels.
Wilder Girls by Rory Power
It's been eighteen months since the Raxter School for Girls was put under quarantine. Since the Tox hit and pulled Hetty's life out from under her.
It started slow. First the teachers died one by one. Then it began to infect the students, turning their bodies strange and foreign. Now, cut off from the rest of the world and left to fend for themselves on their island home, the girls don't dare wander outside the school's fence, where the Tox has made the woods wild and dangerous. They wait for the cure they were promised as the Tox seeps into everything.
But when Byatt goes missing, Hetty will do anything to find her, even if it means breaking quarantine and braving the horrors that lie beyond the fence. And when she does, Hetty learns that there's more to their story, to their life at Raxter, than she could have ever thought true. Goodreads → 
The Wedding Party by Jasmine Guillory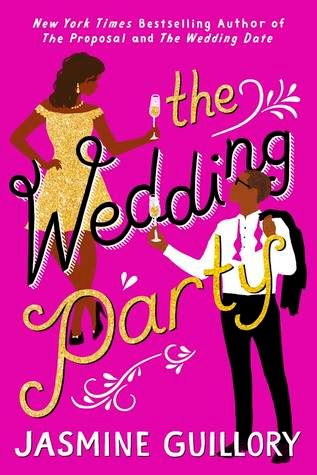 Maddie and Theo have two things in common:
1. Alexa is their best friend
2. They hate each other
After an "Oops, we made a mistake" kiss, neither one can stop thinking about the other. With Alexa's wedding rapidly approaching, Maddie and Theo both share bridal party responsibilities that require more interaction with each other than they're comfortable with. Underneath the sharp barbs they toss at each other is a simmering attraction that won't fade. It builds until they find themselves sneaking off together to release some tension when Alexa isn't looking.
But as with any engagement with a nemesis, there are unspoken rules that must be abided by. First and foremost, don't fall in love. Goodreads → 
Becoming the Dark Prince by Keri Maniscalco
Enigmatic, brooding, and darkly handsome, Thomas Cresswell has always been the one mystery Audrey Rose has never been able to fully solve. As brilliant partners in crime investigation, they understand each other perfectly…but as young lovers, their passionate natures have led to both euphoria and heartbreak throughout the Stalking Jack the Ripper series.
This novella features a collection of scenes that takes place during and after the pair's horrifying Atlantic voyage in Escaping From Houdini. Experience new and familiar scenes from Thomas's unique point of view, including an intensely personal look into his plea for Audrey Rose's hand in marriage.
With a romance for the ages, Audrey Rose and Thomas reach the conclusion to their epic, irresistible partnership in their final adventure, Capturing the Devil. Goodreads → 
More July Releases…
➳ The Little Mermaid live action casting announcements
I'm so excited for this casting! Halle Bailey is a divine singer and she just looks like a Disney Princess. This is the only official casting news we have so far, but Melissa McCarthy, Harry Styles, Javier Bardem, Awkafina and Jacob Trembley are speculated to also be joining the live action remake.
➳ 2019 Booker Prize Longlist Announced
➳  Adaptation News
Several popular authors and book series have been optioned or, are in the process of being adapted.
Aurora Rising by Amie Kaufman and Jay Kristoff, has been optioned to be developed as a TV series.
Netflix has optioned three novels from Sarah Dessen – This Lullaby, Once and For All and Along for the Ride will each be adapted in feature films.
Grey's Anatomy creator Shonda Rhimes signed a multi-year deal with Netflix to produce several new shows and other projects. One of those projects has officially been announced as Julia Quinn's Bridgerton Family series, one that is sure to appease fans of period drama.
Amazon Studios will be adapting The Expatriates by Janice Y.K. Lee, with Screenwriter Alice Bell from The Beautiful Lie attached as a writer and Nicole Kidman to potentially star.
Although only a new release, Lock Every Door by Riley Sager is already being produced for an upcoming series.
➳ Gossip Girl Reboot
Originally written by Cecily von Ziegesar and published in the early 2000s, HBO Max will be rebooting the television series eight years after the original website went dark. It will follow a new generation of New York private school teens and will address how social media and the landscape of New York itself had changed in the intervening year.
➳ Upcoming Readathons
Much like the adaptation news, with so many occurring/upcoming readathons, I've compiled a list below with dates and links to announcement videos!
➳ Marvel Comic Con Panel 2019 Highlights
I'm a big fan of the MCU Franchise and I was so excited to see so many big names joining (and returning to) the MCU. I'm especially excited to see more of Scarlet Witch in both her own show and the next Doctor Strange film, the 'What If' animated series and to see some more information about the Black Widow prequel and release date.
➳ John Green Q&A with (some of) the Looking for Alaska cast
John Green featured Charlie Plummer and Denny Love, who play Miles and the Colonel respectively in Hulu's Looking for Alaska adaptation. They discuss life, the universe and announce the release date is October 18th. With the entire seasons (8 episodes) dropping at the same time so it's binge-able!
➳ Epic Reads: WHY NOT YA? Episode 7
➳ A Discovery of Witches Season 2 First BTS Look
➳ Trailers
➳ Cats Trailer
The upcoming musical fantasy is based on the musical with the same name, which was based on T.S. Eliot's Old Possum's Book of Practical Cats.
➳ The Witcher Trailer
The Netflix series is based on the Polish novels by Andrzej Sapkowski,
➳ Also…
---