Happy Sunday readers! I hope you're all having a great weekend, whether you're spending it working or relaxing before the beginning of your work week.
Or better yet, you might be spending it getting through the books on your TBR (ahem, what I should be doing…) but instead I've been lounging around watching Money Heist on Netflix. 😅
Thank you to the lovely Alex at Reading by Starlight, who tagged me in today's post. I loved answering your questions.
Firstly, the rules:
Answer the 11 questions you've been asked
Nominate 11 other bloggers
Ask your nominees 11 questions
Let them know you've nominated them
Now onto the questions and answers…
Who is your ultimate book boyfriend and why?

I'm slightly obsessed with Fitz from The Chase by Elle Kennedy, after pretty much inhaling this book. He's just a massive nerd and homebody. It's so refreshing to get a love interest like that, instead of the party/frat boy (not that I don't enjoy those characters from time to time…) but it's refreshing!
The world is ending tomorrow – what is the last book you'd want to read?
In an ideal world, the final book in GRRM's A Song of Ice and Fire… I'm definitely one of the people who wasn't a massive fan with the ending of HBO's Game of Thrones. And so I'm really excited to see how GRRM wraps everything up.
What literary school besides Hogwarts [be it magical or otherwise] do you want to attend?

Academy Absconditi from Killing November by Adriana Mathers. I'm probably overestimating myself here, but I think I'd like training to become an assassin, spy or impersonator. The Art of Deception calls to me for some reason?
Do you read classics? If so what is your go-to classic?
I'm sorry, the closest I get to classics are their movie adaptations. She's The Man, The Lion King and Bridget Jone's Diary…
Who is your "gun to head" OTP?

Addison and Elijah from Getaway Girl by Tessa Bailey! This is a small town romance between two main characters who become fast friends. I loved how these characters were friends before they became lovers. This gave the book so much tension and I was living for it.
Recommend a book that you practically lived and breathed.

Into the Drowning Deep by Mira Grant. If you like the idea of Jurassic Park meets Mermaids, and think you might enjoy some nautical horror I can't recommend this enough.
What is your favourite bookish item and why?
My Slytherin scarf 🐍. I personally don't collect a lot of souvenirs or bookish trinkets anymore. I used to really enjoy Funko pops but can't say I'm a fan anymore or enjoy the kind of monetary commitment that comes with a collection like that, but I really cherish my Slytherin scarf!
Trilogies or duologies?
I'm not confident in this answer because on one hand I think I read more trilogies on average and longer series in general. But also Six of Crows is one of my favourite series and that's also a duology. I'd probably lean towards trilogies because I read them more on average. Also so many series nowadays get continuations anyway – as I've seen in the young adult community.
What is your go-to destination or holiday read?
Likely a romance or fantasy on my TBR! They're my most read and favourite genres easily and most of my TBR would be either of these genres.
How did you come up with your Blogging name?
A reallly long time ago, back when I watched New Girl, Jess says in an early episode: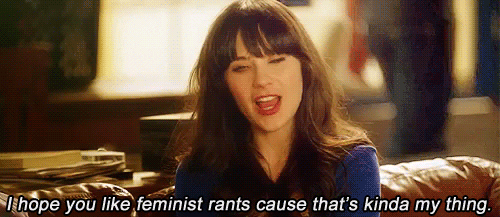 …and Reading is My Kind of Thing was born because of this!
Can you name the very worst book you've ever read? What made you dislike it?
I kind of love this question and don't feel bad about singling out a book because this author (SOMEHOW) got a movie out of it and I'm sure she's doing just fine (if you know what I mean $$$)… but it was A Simple Favour by Darcey Bell. This story was just all over the place and it feels eerily similar to Gone Girl in a completely unoriginal way. The movie is definitely better in this case.
My questions:
What has been your favourite and least favourite book of 2019 so far?
Have you ever read a book that has been influential to your life? (It doesn't have to be a Pulitzer prize book or high brow non-ficition, just a book that has helped or shaped you in some way.)
Is there a book you'd love to see be adapted into a movie or television show?
What is your favourite book from your favourite genre?
Is there a book character you think you could be best friends with IRL?
What do you enjoy about being a part of the book blogging community?
Can you match a book to your current favourite song or a song your listening too the most right now?
When did you start reading? Is it something you've always loved or something you became interested in as you grew older?
What do you think about authors continuing finished series? (For example, the Shatter Me trilogy getting an additional three books 4 years after the last book in the original trilogy was published.)
Can you recommend an underrated and/or diverse book?
Lastly, can you share some non-bookish things about you?
---
I tag:
Sahi | Tracy | Louise | Jen | Jemma | Gerry | Siobhan | Aimal | Caro | Charlotte | Sav
As always with tags, please don't feel guilty or pressured to get to this ASAP or at all if it's not in line with your content — no hard feelings. But if you do this tag, I'd love for you to check back in with me so I can read your responses! 😊