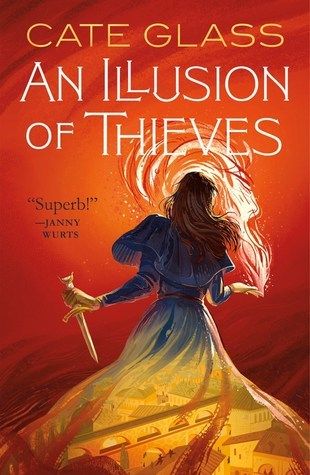 Spoiler Free Review
Title: An Illusion of Thieves
Author: Cate Glass
Series or Standalone: Chimera, #1
Genre: Fantasy, Magic, Adult
Publication Date: May 21st 2019
Publisher: Tor
Format: eArc
Source: Netgalley
Star Rating: ★★★★☆
GOODREADS
3 1/2 stars. I knew very little about An Illusion of Thieves when I requested it from Netgalley. Honestly, it was the divine cover that drew me in and I was happy to escape to a new, Italian inspired fantasy world.
An Illusion of Thieves centres around Romy, who at ten years old was sold by her mother to a procurer for the Moon House; an establishment where anonymous, unblemished girls and boys are transformed into courtesans to please men or women of wealth in both seemly and unseemly ways. For nine years, Romy was the companion and favoured courtesan to the Shadow Lord – a revolutionary noble who brings laws and comforts once reserved for the wealthy to all.
Although it was not a life Romy chose, she is not ashamed and enjoyed the privileges of being a member of the Shadow Lord's palace. But when her brother, Neri, is caught thieving with the aid of magic, Romy's aristocratic influence is the only thing that can spare his life—and the price is her banishment.
Back in Beggar's Ring, she has just her wits and her own long-hidden sorcery to help her and Neri survive. But when a plot to overthrow the Shadow Lord and incite civil war is uncovered, only Romy knows how to stop it. To do so, she'll have to rely on newfound allies—a swordmaster, a silversmith, and her own thieving brother. And they'll need the very thing that could condemn them all: magic.
Continue reading "ARC REVIEW: AN ILLUSION OF THIEVES BY CATE GLASS" →